Working retail comes with all kinds of dangers, but usually they're pretty tame.
Nothing hurts quite the same way as a rude customer's comments and a bad day can regularly include an unidentified hunk of food stuck to your work clothes. When you're working in public, especially if you're the only one in the store, the possibility that you might be robbed is also a terrifying possibility. It doesn't happen often, but when it does it's easy to freeze up or not know what to do.
At a Starbucks in Fresno, California, a young female barista was confronted by a robber. What he didn't know is that there was someone in the store who was not going to let him get away with it.
A man now identified as Ryan Flores walked in wearing a Transformers mask, wielding a knife and a toy gun to rob the Starbucks location.
Customer Craig Jerri snuck up from behind and bashed Flores in the head with a chair before tackling him to the ground. He managed to wrestle the knife away.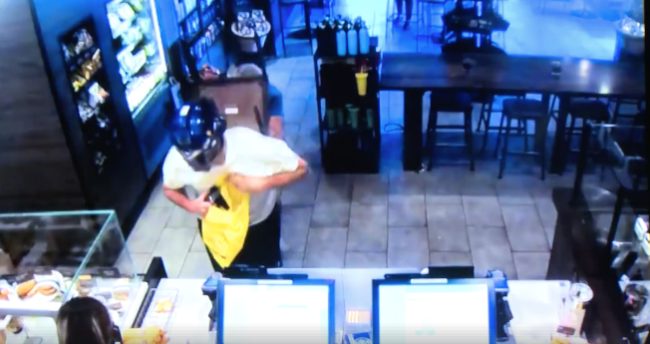 "There's probably not very many people in America who would do what Cregg Jerri did last night," Fresno Police Chief Jerry Dyer said. "It was incredibly heroic and the way most people would think that they would respond but may not have the courage to respond."