Pizza! Who doesn't love pizza? It's one of the most universally liked foods, and it should probably just be illegal to hate it. Even if you're not into the standard sauce-cheese combo, there's probably a delicious recipe out there that you like, because pizza is a gift from the universe.
And the best thing about it is that this culinary favorite can also transition into dessert. Take this peppermint pizza recipe, for example. It comes complete with cookies, peppermint sprinkles, and chocolate chips. If you want to make this for your next holiday party, check out the recipe below.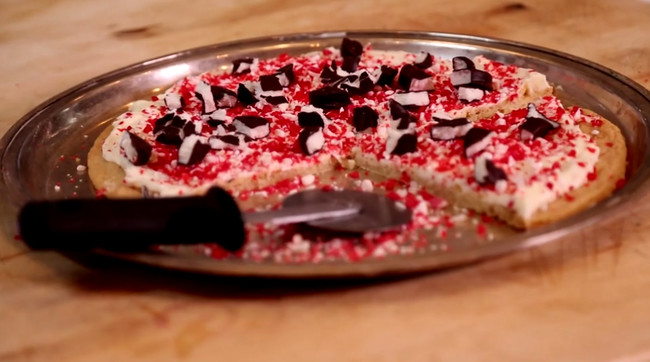 Ingredients
1 roll store-bought sugar cookie dough
1 eight-oz. pack cream cheese
4 tbsp. unsalted butter, softened
5 oz. white chocolate chips, melted
½ tsp. vanilla extract
1 tsp. peppermint extract
1½ cups powdered sugar
¾ cup crushed peppermint crunch
5-6 peppermint patties
Instructions
Preheat the oven to 350 degrees.
On a cookie sheet, create a 10-inch round pizza shape with the cookie dough.
Bake the pizza for about 15 minutes, or until golden.
Beat the cream cheese and butter until completely combined and smooth.
Add in the melted white chocolate, vanilla extract, and peppermint extract.
Beat in the powdered sugar until frosting is smooth and all sugar is incorporated.
Frost your cooled sugar cookie pizza crust, then top it with crushed peppermint crunch and crumbled pieces of peppermint patty.
To see this recipe in full, check out the video below:
(via Yahoo)
You'll be the star of that holiday party if you show up with one of these. I guarantee that everyone will love it.